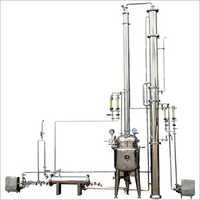 Alcohol Distilling Tower
Product Description
JS Series Alcohol Distilling Tower/Continuous Alcohol Distiller


Use: This equipment can be used to recycle organic solvent as well as for the depuration of alcohol, methyl alcohol, acetone and more.

Feature:
1. This is intermission and continuous type equipment, comprising condenser, buffer tank, flow meter, distilling kettle, distilling tower body, and more.
2. Continuous type with a pre-heater is a continuous production line that can meet high-volume production requirements.
3. A small-scale distiller can also be purchased for small dose of production and experimentation in hospital and scientific research unit.
4.It can distill the weak alcohol whose purity is less than 30% purify to 90-95% and the surplus residue alcohol purity ≤3%.
5.The integrated PLC control system can be used for controlling the parameters of flux, purity, temperature to automatically enhance the production efficiency.

Main technical parameter:


| | |
| --- | --- |
| Model | JS-200, JS-300, JS-400, JS-500, JS-600, JS-800 (L) |
| Volume of distilling kettle | 900, 1100, 1600, 2000, 2500, 3200 (mm) |
| Height of distilling tower body | 5500, 7000, 7000, 7500, 7500, 7500 (kg/h) |
| Recycling capacity | 45-60, 90-100, 150-160, 280-300, 420-450, 600-630 (m2) |
| Condensate area | 4, 9, 16, 25, 36, 56 (m2) |
| Cooling area | 1,1.6,3,3,3,4.5 (MPa) |
| Steam pressure | <0.1(m) |
| Dimension | 2.9x1.5x9.5, 3.3x1.6x11, 4.6x1.8x11.7, 4.8x2.1x12.6, 5x2.2x12.6, 5.5x2.2x13.8 |
Contact Us
2TH XINGLONG ROAD, RUIAN CITY, Wenzhou, Zhejiang, 325200, China
Phone :86-577-66682966