Three Stage Pump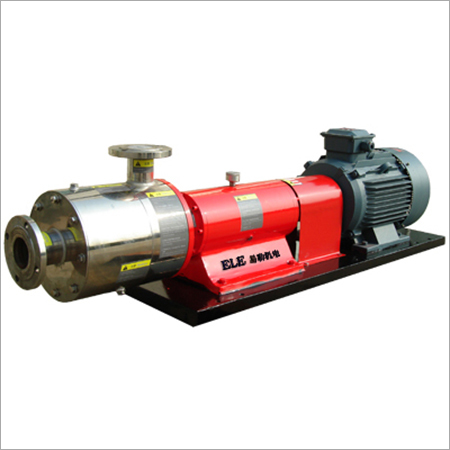 Three Stage Pump
Price And Quantity
Set/Sets,

5000.00 - 15000.00 INR
Product Description
ELR Three Stage Pump
Three Stage Pump have three impellers, therefore this can also be known as multistage Pump. This equipment is compact in size, which makes it easily installable and operational. Each of the stage in such pump does consists of impeller along with it also has diffusion components. Offered equipment can be used in different industrial sectors for performing several fluid treatment facilities. Available Three Stage Pump is essential for liquids and gasses in order to get moved up to large distance with higher pressure. Impellers at different stage and get mounted over the shaft in order to flow. This comes in the combination of golden, red and black color. This is a kind of vacuum emulsify and fill equipment.

Feature
Three stage pump comprises three sets of stator and rotor (each of two layers, four layers and six layers). No matter how viscous the material is, it can treat that too in large quantity. It is best suited for industry online production.
ELR/3 high-shear emulsifying pump with better efficiency and effect is ideal for production with high emulsification requirement. It is the best option for microemulsion.
In order to suit different pH requirement, there are different kinds of stainless steel like 304 and 316L.
It has a double mechanical seal and can also match up the water protector

ELR/3 is a flexible connection, makes low noise and performs steadily.



Technical details
| | | | | | |
| --- | --- | --- | --- | --- | --- |
| Model | Power/KW | Rotation/rpm | Flow/m3/h | Entrance | Exit |
| ELR401/3 | 1.1 | 2890 | 0.5 | DN40 | DN32 |
| ELR405/3 | 4 | 2890 | 2 | DN40 | DN32 |
| ELR410/3 | 7.5 | 2890 | 4 | DN50 | DN40 |
| ELR415/3 | 11 | 2890 | 6 | DN65 | DN50 |
| ELR420/3 | 15 | 2890 | 12 | DN65 | DN50 |
| ELR425/3 | 18.5 | 2890 | 16 | DN65 | DN50 |
| ELR430/3 | 22 | 2890 | 18 | DN65 | DN50 |
| ELR450/3 | 37 | 1440 | 26 | DN100 | DN80 |
| ELR475/3 | 55 | 1440 | 32 | DN125 | DN100 |
| ELR490/3 | 75 | 1440 | 45 | DN125 | DN100 |
| ELR510/3 | 90 | 1440 | 55 | N125 | DN100 |
| ELR530/3 | 110 | 1440 | 70 | DN150 | DN125 |