Tube Fill And Seal Machine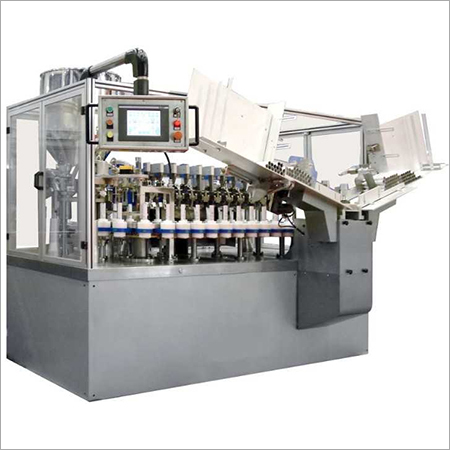 Tube Fill And Seal Machine
Price And Quantity
Set/Sets,

5000.00 - 15000.00 INR
Product Description
FM160 Tube Fill And Seal Machine
We are dealing in Tube Filling Machine, which is used for filling assorted products in tubes and then make it sealed. It can fill ointment, shampoo, cream, gel, tooth paste, grease, sauce, adhesives etc. This is provided with a compatible design and can fill all sort of tubes such as aluminum, laminated tube, metal collapsible, plastic co extruded etc. Suitable for various working environments, it ensures precision in categorization as well as repeatability. It is provided with high filling accuracy and zero tailing after the filling process. Tube Filling Machine is suited to work in all sealing stations and enables simple operation. Provided machine is provided with a double side coding system so as to mark the MRP , Batch No. and PKD.
Application:
High speed tube filler and sealer is designed and developed for automatically filling and sealing products, like ointment, toothpaste, cream jellies, lotion, jam and viscosity material, in addition to sealing or tail folding, batch number embossing. The types of tube it can work with are plastic, aluminum and laminated.
Principle:
This machine is ideal for plastic, laminated and aluminum tube filling and sealing for industries, like food, pharmaceutical, cosmetic and more.
Its working principle is:
The tubes from the tube chamber enters one by one into first-station tube holder vertically. These are then transferred with the rotating turn plate to the second-station for marking detection. In the third station, these undergo tube locating and reversal inspection. In the forth station, the material is filled and then passed to sealing/ tail bending station for the following processes:
Heating (PE tube)
Folding (metal tube)
Tail sealing (PE)
Clamping (metal)
Batch number printing
Cooling
Cutting
Discharging finished product
Every tubes goes through the entire process and finished after filling and sealing. The machine main structure comprises main transmission, feeding, rotation, tail sealing, filling and electricity control system.
Character:
The multi-purpose machine with stations and matching with manipulator can meet different types of tail folding, sealing requirement of plastic, laminated and aluminum tubes.
It performs all functions automatically, whether tube feeding, marking, material filling, sealing, printing of batch number and discharging finished products.
The filling amount can be easily adjusted by touch screen enabled by Servo control.
The height of tube chamber can be adjusted by motor on the basis of different length of the tube. Tubes charging is made more tidy and convenient with external reversal feeding system.
The mechanical linkage photo sensor precision tolerance is >0.2mm. It has reduced the chromatic aberration scope between tube and I. Mark.
The machine can have photo-electronic, electric, pneumatic integrative control. No tube, no filling. In case of low pressure, it activates the alarm. In case of tube error or opening of safety door, the machine automatically stops.
Three-layer jacket instant heater comes with inside air heating, it will not cause any damage to the pattern on outer wall of tube, and results in a firm sealing effect.
The machine comprises manipulator of five-fold and three-fold function, and can achieve double-sides code print for the improvement of product quality and the machine grade.
Liquid crystal display controller with operation buttons enables to conveniently control the stepless speed regulator, pressure instruction, parameter setting, constant statistic and trouble display. The operation is easy and reasonable.