Double Film Falling Machine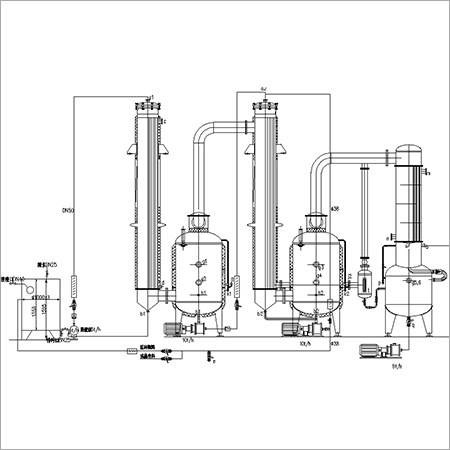 Double Film Falling Machine
Product Description
Make use of double-effect falling film concentrator for heat-sensitive material with low-viscosity liquid c. It can be used for fermentation, extraction and wastewater treatment processes, plus in the processing of milk, drink, juice and pharmaceutical products. The principle is similar to single film falling machine; the only difference is of re-using of steam generated from evaporator. The steam can heat the secondary evaporator and the stream generated by this evaporator is cooled by condenser and let it flow out.

Single-effect falling film concentrator on the other hand is designed to concentrate solvent that includes water or organic solvents comprising heat-sensitive logistics solution as well as low body suspended enrichment. It can be used for low temperature concentration of extracts from plant, organic enrichment, pre-concentrate of fruit juice and milk, de alcohol , and more. The film is formed along the inner surface post the flow of material from the top into the tube by materials distributor. Once the solvent heated by jacket starts to boil, it generates steam that flows down into air-water separator, which results in the concentration of the solvent. Improvements can be witnessed regarding the heat transfer coefficient. The residence time of materials is shorter, and evaporation temperature is lower.

Three effect falling film concentrator can be put to use to concentrate mass solvent, especially for starch products, sugars, organic acids, dairy products, fresh juices. It is also used for the treatment of wastewater.

Trade Information
90 Hours

Contact us for information regarding our sample policy
Standard Packaging or as required by the client

All India